Used Ford Trucks in Grand Junction, CO
Is hauling things around your favorite thing to do? Do you enjoy hauling around furniture, boats, and people? Then come take a look at our selection of used Ford trucks at Grand West Kia. We keep an extensive inventory of used Ford trucks like the smaller Ford Ranger and a variety of F-150's, F-250's, F-350's, F-450's, and specialty models like the off-road monster, the Ford F-150 Raptor.. Whether you're looking for comfort, effectiveness, or the thrill of power, Grand West Kia has the right selection of used Ford trucks you're looking for. Come test drive one today and find out why so many people enjoy their used Ford trucks from the top used trucks dealer in Grand Junction!
Quality Used Ford Trucks that You Can Trust
Here at Grand West Kia we inspect all of our incoming vehicles to make sure that there are no hidden problems. We won't sell you anything that we wouldn't be comfortable driving ourselves. When you get a used Ford truck from Grand West Kia, you know that you're getting a vehicle that performs very well for its mileage. The trucks are all mechanically sound and structurally strong because we thoroughly inspect them. We also have all available reports on accidents and previous owners!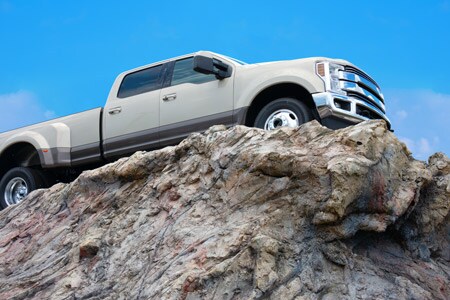 Financing for Used Ford Trucks
We offer our own financing, which you can apply for right from the dealership. There's no need to make a trip to the bank before you come in. Just give us the necessary information and we can take care of it for you. Our interest rates and prices are competitive, so you get more truck for less money
The Best Used Ford Trucks in Grand Junction
With all of the dealerships in Grand Junction and the surrounding area, what sets Grand West Kia apart from the competition? Simply put, Grand West Kia has the best selection of used Ford trucks and the top sales team in the region. Whatever it is that you're looking for, you can find it here with us. We can also track down models with the performance or comfort features that you need. Our expert sales staff is courteous and never engages in double talk or talks down to you. We explain everything in plain language. If you have a question about the history of a vehicle or its performance, just let us know. We've also got staff on hand to chat with you in real time. There's no need to go another day without enjoying the Ford truck of your dreams. Go ahead and give us a call or email us and we'll set up an appointment at Grand West Kia to get you into a used Ford truck today!
Grand West Kia
2980 U.S. Highway 50 
Grand Junction, CO 81503