Used SUVs for Every Need
There's probably no more versatile type of vehicle than an SUV. Sport utility vehicles are good at just about everything. Do you need to haul around your camping supplies? Go offroad? Or maybe just get through your daily commute? SUVs can do it all. If you're in the market for a
used vehicle
, specifically a used SUV, Grand West Kia is your best option. We offer an extensive inventory of used SUVs, making us one of the
top dealers
in the Grand Junction area.We carry all sorts of SUVs, and in any option. For instance, we have the EX, SX and LX Kia Sorrento. And although Kia is in our name, we carry other manufacturers' vehicles too. If you prefer American models, we regularly have Chevy Tahoes, Dodge Durangos, GMC Denalis. Our stock also includes Japanese SUVs like the Nissan Rogue, Subaru Outback, or the Toyota RAV4. SUVs are useful for anyone who likes a little more power in their vehicle, but who doesn't need a truck. You can get a sport model, which is like a roomier sedan. You can also opt for a larger variant for power and cargo capacity. The largest SUVs have as much room for passengers as a minivan.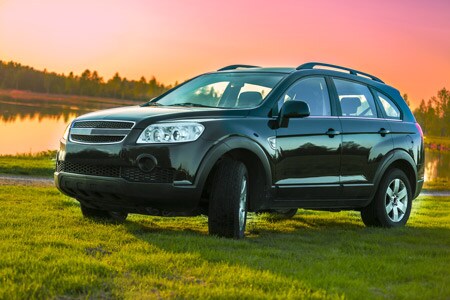 Financing for Used SUVs
If you need financing, you're in luck. Not only does Grand West Kia sell used SUVs, we also arrange for financing directly at the dealership. This means that you don't have to make a trip to the bank before you go shopping for a car. We offer very competitive rates and fair terms, all to make your dream of car ownership reachable.
The Best Used SUV Team in Grand Junction
So where do you need to go if you want a new vehicle? Check out our inventory online. Grand West Kia features one of the biggest inventories in the area. Our team is full of experts who know the ins and outs of all the cars that we sell. We can tell you anything that you need to know about features, handling, and anything else. If you're curious you can give us a call, come on down, or even chat with one of our live agents online.The sales staff here at Grand West Kia is devoted to customer service first. We understand how important a car is to you, so we make sure to give you all the information that you need.We also explain the terms of our sales in plain language so there are no surprises. In all the years that we've been in business, we've built our reputation on integrity and honesty. We'll treat you exactly as we'd want to be treated ourselves. There's no reason to go another day without having your dream car. Just give us a call or come on in! Before you do, take a look at our impressive inventory. Let Grand West Kia set you up with your ideal used SUV.
Grand West Kia
2980 U.S. Highway 50
Grand Junction, CO 81503